We Shred Your Unwanted Confidential Records

Identity theft is at an all-time high and TITAN has several flexible residential shredding options to eliminate the risk of your data getting in the wrong hands. In addition to paper, we can securely destroy your CDs, DVDs, Hard Drives, and other digital media.
TITAN Mobile Shredding has a number of options to assist you with securely destroying your unwanted confidential records. After shredding, the paper is always 100% recycled. In addition to paper, we can securely destroy your CDs, DVDs, Hard Drives and other media at our facility.
You are invited to bring your boxes of obsolete files and watch their destruction at one of our community shredding events. We furnish a receipt and Certificate of Destruction. The cost per box is $15.00 for the first and $15.00 for the second box, then $10.00 for each additional copy paper, standard file box, or equivalent. Cash or checks are accepted.
We proudly work with local businesses and organizations to provide FREE community events. Bring as many as three copy paper or standard file boxes and get your shredding at NO CHARGE.
Simply bring your boxes or bags to our Bucks County facility for secure and cost-effective data disposal. We remove your material from your vehicle and transfer it into our locked bins for same-day destruction. Appointments are available Monday-Friday 9:00 am to 1:30 pm. Cash, checks, or credit cards are accepted.
PLEASE CALL IN ADVANCE TO SCHEDULE A DROP OFF TIME. 866-848-2699 or 215-766-3480.
Mobile Shred Truck at Your Home
This is an option we suggest this as an option if you have 20 or more standard file boxes. Our mobile shred truck will come directly to your home for on-site secure shredding of your confidential documents. An electronic Certificate of Destruction is issued. We accept checks or credit cards. Service can be scheduled Monday–Friday. We are NAID AAA Certified Since 2007​
This certification is recognized by regulatory organizations as the premier standard for integrity, security and compliance.
Our Professional And Friendly Team Is Ready To Answer Your Questions.
Why Choose TITAN Mobile Shredding
• Fully compliant and NAID AAA Certified
• Media & Hard Drive Destruction
• Locally owned and operated
• Easy scheduling
• Secure document destruction
• 100% destroyed paper is recycled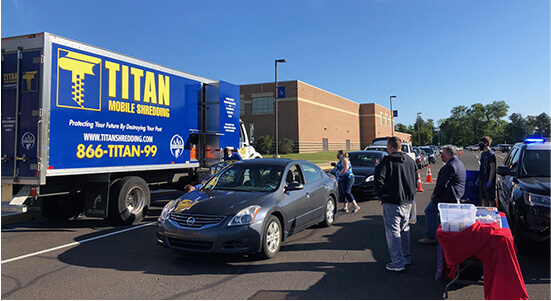 Professionalism, Quality, Responsiveness, Value
I hired Titan Mobile Shredding to shred about 15 boxes of documents for my business. They were very easy to work with and highly professional. I thought the price they charged was very fair and I would absolutely hire them again in the future.
Financial Firm - Buckingham, PA
Contact TITAN For Your Quote Today