Scheduled Shredding Services
Protect Your Company's Data

In the current age of digital advancements, compliance with state and federal privacy regulations such as the Health Insurance Portability and Accountability Act (HIPAA) and the Fair and Accurate Credit Transactions Act (FACTA), along with The Gramm-Leach-Bliley Act (GLBA), and the Privacy Act of 1974, is crucial. Businesses are required to place a high priority on securing the confidential information of their customers and employees.
In this context, it's important to mention the significance of scheduled shredding services. As a business, you have both a legal and ethical duty to protect sensitive data. This includes not only digital information but also physical documents that hold confidential details. Ensuring these documents are properly disposed of is a crucial part of this responsibility, and this is where scheduled shredding comes into play.
Our NAID AAA Certification demonstrates our commitment to helping your company maintain the highest compliance standards while securing your data. The National Association for Information Destruction (NAID) sets the industry benchmark for secure data destruction, and their AAA Certification process ensures we meet or exceed all regulatory requirements for handling and disposing of sensitive information.
How Scheduled Shredding Works: TITAN Makes It Easy As 1,2,3
Call us, we will review your needs and provide a quote. We will work with you to determine the type and quantity of complimentary security containers. You choose a schedule that works best for you.
We will place our complimentary locked bins throughout your office, usually in high-traffic areas. On your day of service our uniformed technician will arrive on-site, empty your containers, and securely transport the contents to one of our mobile shredding trucks.
Your materials are loaded into the high-security shredder and destroyed on-site. In seconds, your shredded documents are destroyed. An electronic Certificate of Destruction is provided and 100% of the paper is recycled.
Our Professional And Friendly Team Is Ready To Answer Your Questions On Scheduled Shredding
Pursuing Our Vision of Green Compliance
Since 2005 we have recycled 55.64 million pounds of paper Why Choose TITAN Mobile Shredding
• Easy scheduling
• Locally owned and operated
• Secure document destruction
• Fully compliant and NAID AAA Certified
• 100% destroyed paper is recycled
• Ask about our 90-Day Risk-Free Trial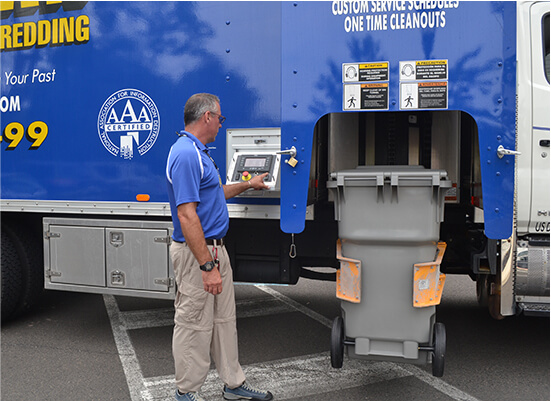 We Have Been Using TITAN Mobile Shredding For Nine Years Now
TITAN Mobile Shredding has been a very reliable and professional vendor to work with over the last 9 years. We utilize biweekly onsite service at three locations to keep our shredding needs under control. We also do annual record purges and disposal of specialty items ( hard drives etc.) as the need arrives. The customer service is excellent and TITAN always manages to be flexible to meet an unexpected need. The drivers are friendly and helpful and have developed great working relationships with my staff over the years. We rely on TITAN as a partner to handle our confidential records, legal materials and financial documents. I would highly recommend TITAN to anyone looking to get their paper destruction under control and in the hands of professionals who provide timely, accurate document destruction documentation.
Educational Organization - Doylestown, PA We are NAID AAA Certified Since 2007​
This certification is recognized by regulatory organizations as the premier standard for integrity, security and compliance.
Contact TITAN For Your Quote Today