PROTECTING YOUR FUTURE BY DESTROYING YOUR PAST!
Mobile Document Shredding Serving Eastern Pennsylvania, New Jersey and Delaware Since 2005
COVID-19 UPDATES. WE ARE OPEN FOR BUSINESS.
Serving Pennsylvania, New Jersey and Delaware
It's Easy. Get Your Quote Today.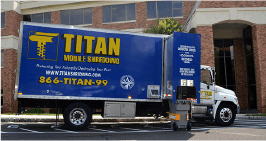 We will shred your confidential information on-site, on a schedule specifically tailored to your needs.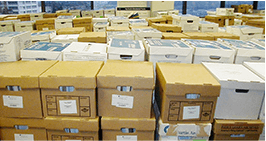 We securely destroy your confidential information. This can be done once or annually.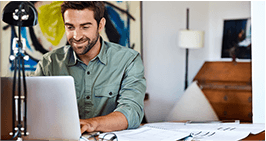 We will assist you with securely destroying your unwanted confidential records.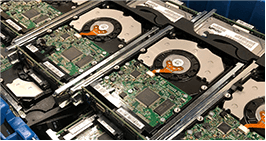 Our specialized equipment securely shreds your hard drives, either on-site or at our secure facility.
Providing document security and compliance since 2005. Businesses across Eastern Pennsylvania, New Jersey and Delaware trust TITAN Mobile Shredding for confidential records destruction.
"Compliance with state and federal privacy laws has never been more important. That's why our regularly scheduled shredding service has become such a popular option. But even if you only require a one-time records purge, our highly-trained staff is dedicated to keeping your information secure. Best of all, our on-site document destruction service is affordable and reliable. Whatever your requirements, you can count on exceptional customer service from TITAN. I'm proud of our team's unwavering commitment to safeguarding our clients' sensitive information."
Don Adriaansen | President & CEO

Why Choose TITAN Mobile Shredding?
TITAN will shred your information securely and efficiently with our state-of-the-art shred trucks.

NAID AAA Certified​
Our Certified Shredding Process exceeds the requirements of all known data protection laws.

Exceptional Customer Service​
Our technicians ensure your shredding service is completed efficiently and securely.

Pursuing Our Green Compliance​
Since 2005, we have recycled 55.64 million pounds of paper. We are NAID AAA Certified Since 2007​
This certification is recognized by regulatory organizations as the premier standard for integrity, security and compliance.

Professionalism, Quality, Responsiveness
Titan has been our mobile shredding provider for the past decade and their ability to adapt, innovate, and respond to the ever changing environment has been outstanding. We look forward to working with them for the next decade.
Regional Bank - Reading, PA
What can you do with a warehouse full of recalled, expired, or defective products that should be removed from the marketplace? Some manufacturers seek economical
Continue Reading »
Mobile shredding is becoming increasingly popular as people become more aware of the importance of data security. This shredding service is particularly convenient for businesses
Continue Reading »
Hard drives are the heart of your organization– storing millions of pages of personal and sensitive information regarding clients, patients, and employees. Their rich content
Continue Reading »
Our Shredding Process Is Easy
Experience Our High-Level Of Customer Service.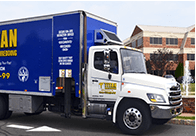 Our state-of-the-art shred truck arrives at your location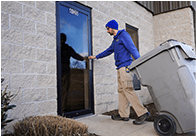 Our technicians collect and transport your materials in locked containers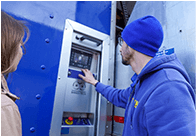 You are invited to witness the destruction process on our security monitor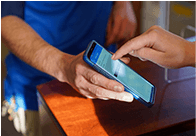 An electronic Certificate of Destruction is issued for each service
Contact TITAN For Your Quote Today