Malvern residents no longer have to search for a dependable shredding company. Our objective at TITAN Mobile is to provide a secure way of destroying your old documents efficiently. In order to provide the best shredding services to our clients, our services have been designed to meet the needs of any business or homeowner.
Malvern Secure Document Destruction
Businesses and homeowners can achieve data security easily with document destruction services. When you use our shredding services, you can ensure that your sensitive information stays protected throughout the entire process. When your shredding day arrives, your files will go directly to our mobile shredding truck, where our commercial shredder is to be destroyed right before your eyes. After our eco-friendly shredding program is complete, we recycle all of the paper pieces generated.
Document destruction isn't just for businesses, but it's also become an essential service for residential. Shredding services help homeowners protect themselves from identity theft by destroying all paper that has personal information that could be used against them. TITAN Mobile will come directly to your home and shred all your paper right there in the truck, meaning that everything is destroyed before they leave.
Legal Compliance for Malvern
Document shredding services from TITAN are designed to meet compliance regulations such as HIPAA, FACTA, and GLBA. Considering that our clients come from various industries, we have crafted our shredding process to meet all known laws on data privacy. We are ensuring that all documents that deal with confidential or personal information are properly destroyed. Shredding helps businesses remain compliant by providing affordable document destruction services.
Our NAID AAA Certified Service in Malvern, PA Includes:

Document Security Analysis provided at no charge.

Locked collection containers are provided at no cost.

Service Calendar provided – so you will always know when your next service is!

Service frequency to meet your needs: Weekly, Bi-Weekly, Monthly or Bi-Monthly.

We bring a shred truck directly to your office for secure on-site destruction.

Our Data Destruction Specialists transport the containers or bags to the truck.
Document Shredding for Business and Residential
TITAN Mobile knows that every business or resident has different shredding needs, so we have designed shredding services to meet every shredding requirement. Our knowledgeable staff can help you find the shredding service that is right for your business by tailoring it to your needs, whether you need a one-time document purge or ongoing shredding. Whenever you need them, you can rely on us.
One-Time Shredding: Professional shredding services will make it easier for you to dispose of your documents securely. Our one-time shredding service is quicker and more efficient than shredding them all yourself, which could take days. A file cleaning service like this is convenient for companies moving offices and clearing out old files.
Scheduled Shredding: When a business has many documents, it is preferable to shred them regularly, which is when scheduled shredding comes in handy. With this service, your sensitive documents are protected and not mishandled while ensuring their confidentiality. You will also be provided with secure containers and consoles to protect your documents further until your shredding date arrives.
Residential Shredding: Homeowners tend to collect a lot of paper over time that contains personal information about themselves that could be used for identity theft if they aren't disposed of properly. To prevent your personal information from being shared and misused, destroy your documents with a residential shredding service who will come and collect your documents then shred them on site.
Certified Product Destruction: Trying to figure out what to do with obsolete products requires time and resources to be spent elsewhere. Don't just throw your old products into the landfill; instead, use our product destruction services, where we will handle your products responsibly and ensure they are properly destroyed. By using these services, your liability risks are also reduced.
Hard Drive Destruction: When it's time to get rid of an old hard drive, many people will just wipe the hard drive, but it doesn't entirely remove all your data when you do that. Someone can still find bits of information if they are skilled in data retrieval. The best way to ensure your data is completely destroyed is using a hard drive destruction service, where a shredding company will come to your location, collect your old hard drives and shred them in our mobile shred truck. After a hard drive has been destroyed, it is sorted and recycled, meaning that it stays out of our landfills.
Other Shredding Services We Offer in Malvern, PA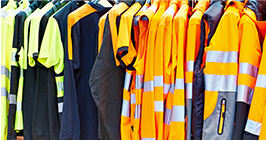 Certified Product Destruction
We address the secure product destruction needs of a wide, multi-industry client base.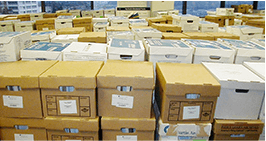 We securely destroy your confidential information. This can be done once or annually.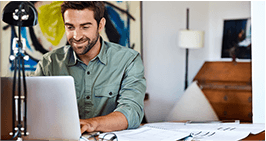 We will assist you with securely destroying your unwanted confidential records.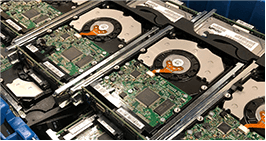 Our specialized equipment securely shreds your hard drives, either on-site or at our secure facility.
Malvern's Paper Shredding
By utilizing TITAN, you can ensure that all your documents have been securely destroyed, making them unrecoverable, meaning that you can concentrate on the next step. We will take care of the shredding process for you, so you don't have to buy expensive equipment. Take advantage of our hard work, and let us handle everything for you.
Our AAA certification ensures that the paper shredding services we offer are top-quality and secure. Our staff treats your paper with respect starting from the moment it is received until it is recycled. It is assured that your files are secure when shredding with TITAN, which provides secure shredding to everyone. Trust us to handle your shredding needs.
Protecting confidential information can be done easily with the help of TITAN Mobile Shredding for residents of Malvern. For shredding services, call us at (866) 848-2699. We also offer free online quotes. We are NAID AAA Certified Since 2007​
This certification is recognized by regulatory organizations as the premier standard for integrity, security and compliance.
Contact TITAN For Your Quote Today