Secure Your Organization's Brand and Reputation

Allowing out of date uniforms, corporate ID badges and defective clothing to enter the mainstream market can present significant security breaches to your company or organization. This is especially true for police officers, firefighters and EMT's . Our durable/industrial equipment ensures your garments are securely and permanently destroyed.
Thoughtful And Secure Disposal Of Old Uniforms Can Help You:

Protect your business: From non-compliance with privacy regulations, expensive lawsuits or identity-theft related damage to your brand image.

Protect your employees: From misrepresentation or impersonation that reflects on their service records.

Protect the environment: most of the shredded material makes its way back to recycling facilities, bringing you a step closer to your zero wastage goals.
Secure Your Organization's Brand and Reputation.
Whether it is employee attrition, change in the branding, or general wear and tear, you may have to toss out uniforms for a number of different reasons. Although donating them may seem like a noble cause, unscrupulous folks could use your redundant uniforms to:
• Impersonate figures of authority
• Misrepresent your organization
• Gain illegal entry into secure facilities
• Commit a variety of different crimes
A professional shredding services company that provides uniform shredding services will ensure permanent destruction of these branded items that can be used by criminals going under cover as your employees. This includes the clothes, as well as accessories, such as badges, clips, lapels, hats, shoes, or any other items that constitute your uniform.
Which Businesses Should Consider Professional Uniform Shredding Services?
All private businesses, public agencies, or government institutions that have branded workwear or uniforms for their staff should consider hiring professional uniform shredding services. This includes:
• Police and firefighters
• Emergency and paramedic services
• Security officers
• Bank and armored truck staff
• Utility companies
• Airlines or cruise staff
• All arms of defense services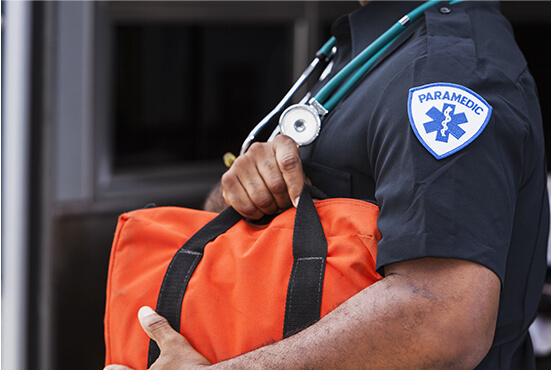 Professional and Secure Uniform Shredding Services
At TITAN Mobile Shredding, our product destruction services address the secure disposal of a comprehensive range of old or obsolete items. We serve numerous government institutions, first responder agencies, and multi-industry corporate clients for their uniform shredding needs, including merchandise returns, counterfeit clothing, and all other items that comprise their branded workwear.
We are the first company in the world to earn a NAID Certification for Product Destrucion (2018), As a NAID AAA Certified company, we follow the highest standards of secure uniform shredding. Our product destruction specialists ensure that you remain compliant with any applicable regulatory norms or industry-specific mandates. At the end of each service, we promptly issue certificates of destruction that serve as a valid proof of disposal for any future audits or legal queries. Photos and videos of destroyed items can also be arranged.
Take advantage of our experienced professionals, state-of-the-art facilities, and integrated shredding solutions to protect your business in a timely and cost-effective manner.
For safe and efficient disposal of uniforms and branded workwear, hire a NAID AAA Certified company, such as TITAN Mobile Shredding. Call (866) 848-2699 to speak to our product destruction specialists.

Excellent, Professional Company! Exceeded Our Expectations!
When looking for a service to destroy our backlog of hard drives, I came across many vendors. TITAN, clearly stuck out with professionalism, responsiveness, competitive pricing, and ability to accommodate our needs. -- Most important, for me, was the ability for TITAN to destroy our HD enclosures/mounts. This alone saved our team hours upon hours of work being as competing vendors required enclosures/mounts be removed prior to destruction. -- We will CERTAINLY utilize TITAN Mobile Shredding in the future. Fantastic company.
IT Company - Scranton, PA We are NAID AAA Certified Since 2007​
This certification is recognized by regulatory organizations as the premier standard for integrity, security and compliance.
Contact TITAN For Your Quote Today