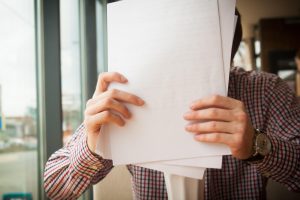 Neither shredding services themselves nor the idea of document security are new ideas. Open up any business management book or corporate instructional guide and you'll inevitably find a section on how to properly store and discard documents. The rules for the storage of different types of information differ according to the industry you're in and the nature of the documents in question, but at the end of their lifespan, it's almost always recommended to have them professionally destroyed.
If you're relatively new to the idea of physically destroying old documents, your first thought may be to simply purchase an off-the-rack shredder from the local office department store and set an employee to the task. However, as appealing as this quick solution may be, there's an easier and more effective alternative at your disposal.
Mobile document shredding (also known as on-site shredding) may seem like more than you need at first glance, but in reality, it's one of the best business decisions you'll ever make, and it's for this reason that it's arguably the most popular form of document shredding available.
The 1-2-3s of Mobile Shredding
Mobile document shredding doesn't mean that your documents have to be mobile – instead, it refers to the actual shredding process. For an on-site shredding visit, your chosen shredding company will dispatch a state-of-the-art shredding truck directly to your location. This can be in your office parking lot, your driveway, or (in the case of a shredding event) a public event space.
After they arrive, the shredding technician will collect whatever documents you have for shredding and immediately deposit them into the shredding truck. Your papers will be cross-cut according to the parameters established by state and federal law, and after the shredding concludes, you'll receive a Certificate of Destruction. The truck will take the shredded particles directly for recycling and that's it!
The Difference Mobile Shredding Makes
One of the things customers love most about mobile document shredding is the convenience it provides. You have the option to watch the shredding if you so choose, but you're not obligated to be present. This means that you don't have to reschedule any meetings or pull yourself out of a good work groove. The technician just needs to know which papers to shred. After that, they'll handle the rest. However, if you do want to personally verify that your papers make it into the shredding machine, you're more than welcome to watch the entire process.
While the convenience of mobile shredding is almost unparalleled, it's the service it provides to your office that makes the most difference. You don't have to invest in an office shredding machine that might break or that requires an employee's time to operate. For a single fee, you can shred as many papers as you have to get rid of. Plus, because they're processed by an accredited shredding service, you can be confident that you're maintaining full compliance with privacy legislation.
TITAN's On-Site Shredding Services
To see the difference that mobile shredding can make for your business, call TITAN Mobile Shredding. With AAA Certification from the National Association for Information Destruction, you can be confident that each and every shredding service will be performed in full compliance with the latest privacy legislation. We're not a one-size-fits-all service, either – you can request either regularly scheduled or one-time service, so you only pay for the shredding you actually need.
If you'd like to learn more about our mobile document shredding services, give us a call at (866) 848-2699 or contact us online.