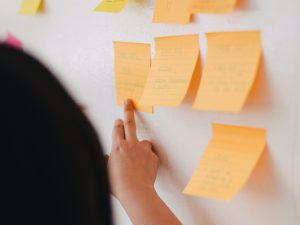 The premise is simple: you call a shredding company in Philadelphia, they show up, and then they shred stuff. But what does that mean for you? What do you have to do to get ready, or on the day of? If you aren't properly prepared in advance, you could drastically extend the appointment time, which means you won't be getting the optimal value for your time.
The process of preparing for your first paper shredding appointment is a simple one, but it may not be intuitively obvious at first glance. That's why today, we're going to walk you through the four steps you'll take to prepare for your upcoming document destruction service.
1. Set the Time and Place
First and foremost, you'll need to let the paper shredding company know where and when you'd like your shredding to take place. The great thing about mobile shredding services like Titan is that they can be dispatched directly to your front door or parking lot. No need to ferry papers to a different location or worry about transportation – instead, a state-of-the-art shredding truck will pull right up to your door.
There's no one-size-fits-all shredding program, either. If you only need shredding once to clear out a back room, just ask for one appointment. If you need an end-of-the-month shredding clearout, let the company know. They're designed to work around and according to your convenience, so don't hesitate to ask for what you actually need. Once you know when your shredding's going to take place, you can proceed to the next phase of preparation.
2. Decide What Needs Document Destruction
The rule of thumb is this: if a document contains a piece of personally identifiable information (PII), then it needs to go in your shredding pile. PII is any information that could be used to identify a specific person or entity. This can include:
A name
A phone number
An address
An account number
A signature
A medical or educational record
A picture
If you work in an office environment, chances are good that most of the papers and notes that come across your desk contain PII. In residential settings, you can find PII on almost every piece of junk mail that comes through your door, which is why it's important to find a shredding company that offers residential shredding services. Even a name and address is enough for identity thieves to begin causing trouble, so when in doubt, put it in the shredding pile.
The exemption to this rule is any documents that you need to legally hold onto for a specific period of time. This could include tax records, medical records, or other personal documents. The regulations will differ according to the industry you're in, so be sure to check and see which ones pertain to you or your company.
3. Prepare Your Papers
One of the best parts about document destruction is that it requires very little preparation on your part. Once you know which papers will be shredded, make sure they're removed from any binders that you might have stored them in, and…that's it.
Seriously, that's it.
You don't have to worry about staples, paper clips, or rubber bands. The shredding machine will make quick work of them, and after the shredding is completed, the non-paper scraps will be sorted out before recycling.
4. Watch Your Paper Shredding Take Place
The last step is also the easiest: just stand back and watch your document destruction as it happens. The uniformed technician will arrive, gather your papers, and directly deposit them into the shredding truck's internal shredding mechanism. You'll be able to personally watch as the papers are shredded, and you can verify that each and every piece made it in.
After your shredding concludes, the technician will provide you with a Certificate of Destruction that affirms your papers were destroyed by a professional shredding company in full compliance with state and federal privacy regulations. From there, all you have to do is get back to the rest of your day.
Document Destruction Direct to Your Door
Titan Mobile Shredding provides secure, convenient document destruction services to businesses and residents throughout Pennsylvania. We shred more than just papers, too. Our hard drive and media destruction make it easy to protect digital data and items like x-rays, and we also shred products that have either expired or are no longer in production.
If you'd like to learn more about our document destruction services, call (866) 848-2699. You can also request a free, no-obligation shredding quote online.