Document Shredding Services

We understand that the people of Blue Bell, PA are concerned about identity theft and protecting their personal information. That's why we offer secure document shredding services that comply with all state and federal regulations. We make it easy for you to protect your privacy by offering convenient pick-up and drop-off times as well as competitive pricing. Founded in 2005, TITAN Mobile Shredding has quickly become Blue Bell's go-to source for affordable & reliable paper shredding services.
Document Shredding: Let The Professionals Do The Work, So You Can Relax
Whether you're a Blue Bell, Pennsylvania business owner or resident, it's important to have a plan for disposing of your confidential documents. Shredding is the best way to protect your privacy and keep your information safe. Here are some tips for choosing a professional document shredding company:

NAID CERTIFIED
Look for a company that is NAID AAA Certified. This certification means that the company has been independently verified to meet the highest standards of security and customer service.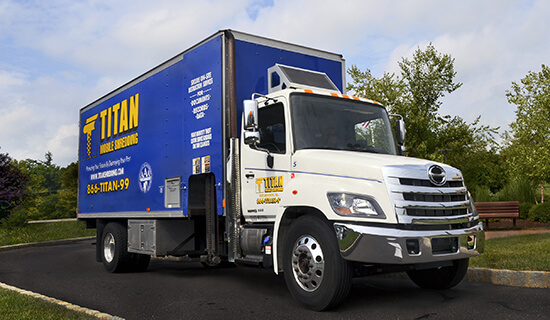 ON-SITE SERVICES
Make sure the company offers on-site shredding. This service allows you to witness the destruction of your documents, so you can be sure that they are being properly destroyed.

EXPERIENCE
Choose a company with experience. A reputable document shredding company will have years of experience in the industry and will be able to provide you with the best service.
Compliance Made Easy for Your Blue Bell Business
Blue Bell businesses need to comply with Pennsylvania state law 45 Pa C.S.A. 1101 which requires the destruction of confidential information such as customer lists, financial records, employee files, and more. But compliance doesn't have to be difficult or expensive.
With TITAN Mobile Shredding, we come to you and shred your documents on-site so you can watch and be sure your confidential information is being properly destroyed. We also provide a Certificate of Destruction for your records. Our mobile shredding services are compliant with all state and federal regulations, so you can rest assured your documents are being destroyed properly.
From financial management to healthcare services, most industries have a set of state and federal privacy protection laws that they must adhere to. TITAN Mobile Shredding's document and product shredding services allow you to easily and effortlessly achieve compliance with regulations like HIPAA, FACTA, and GLBA, and with no more effort on your end than making a single phone call. Our secure shredding process has been designed to ensure the complete confidentiality of every piece of paper, every step of the way.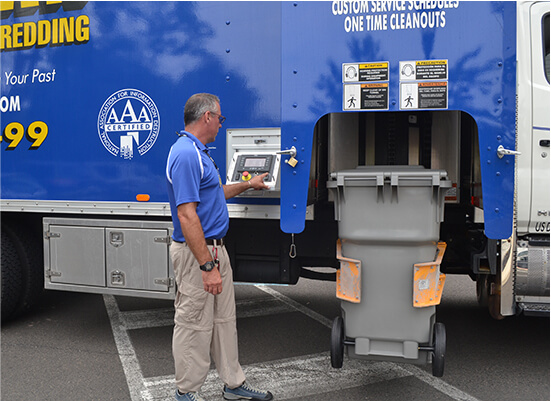 Our NAID AAA Certified Service in Blue Bell, PA Includes:

Document Security Analysis provided at no charge.

Locked collection containers are provided at no cost.

Service Calendar provided – so you will always know when your next service is!

Service frequency to meet your needs: Weekly, Bi-Weekly, Monthly or Bi-Monthly.

We bring a shred truck directly to your office for secure on-site destruction.

Our Data Destruction Specialists transport the containers or bags to the truck.
Shredding Service Perfect For Your Requirements
At TITAN Mobile Shredding, we understand that our customers have different shredding needs. No two homes or offices produce exactly the same quantity of documents, which is why we've designed our document shredding services to be flexible and targeted enough to specifically serve your unique shredding requirements. These specialized services work by making sure you never pay for more shredding than you actually need, and you won't be locked into a long-term contract you don't want. Plus, with each one, you'll enjoy TITAN's exceptional customer service at each and every shredding appointment.
Other Shredding Services We Offer in Blue Bell, PA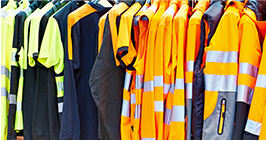 Certified Product Destruction
We address the secure product destruction needs of a wide, multi-industry client base.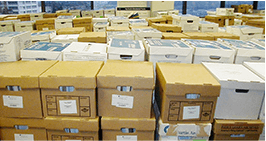 We securely destroy your confidential information. This can be done once or annually.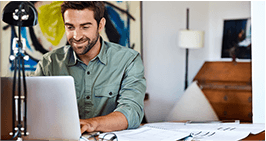 We will assist you with securely destroying your unwanted confidential records.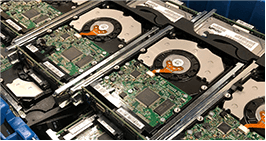 Our specialized equipment securely shreds your hard drives, either on-site or at our secure facility.
It's Time to Shred With TITAN
Document shredding in Blue Bell, PA is easier and more accessible than you ever imagined. Put money back into your pocket and protect the information from your home or business with secure paper shredding. Your confidential documents will be permanently safe, and you'll have more time and money to spend on what's really important.
Working for you since 2005, TITAN Mobile Shredding has put in the time and effort to make sure our document shredding process is robust enough to meet the requirements of all known data privacy laws, and we've got NAID AAA Certification to prove it. That means that when you call TITAN, you can do so with complete confidence that we'll handle your information as carefully as if it were our own.
Are you ready to get serious about your document security? Call TITAN today at (866) 848-2699. You can also request a free quote online. We are NAID AAA Certified Since 2007​
This certification is recognized by regulatory organizations as the premier standard for integrity, security and compliance.
Contact TITAN For Your Quote Today